Community Day 2023: Turning Words into Action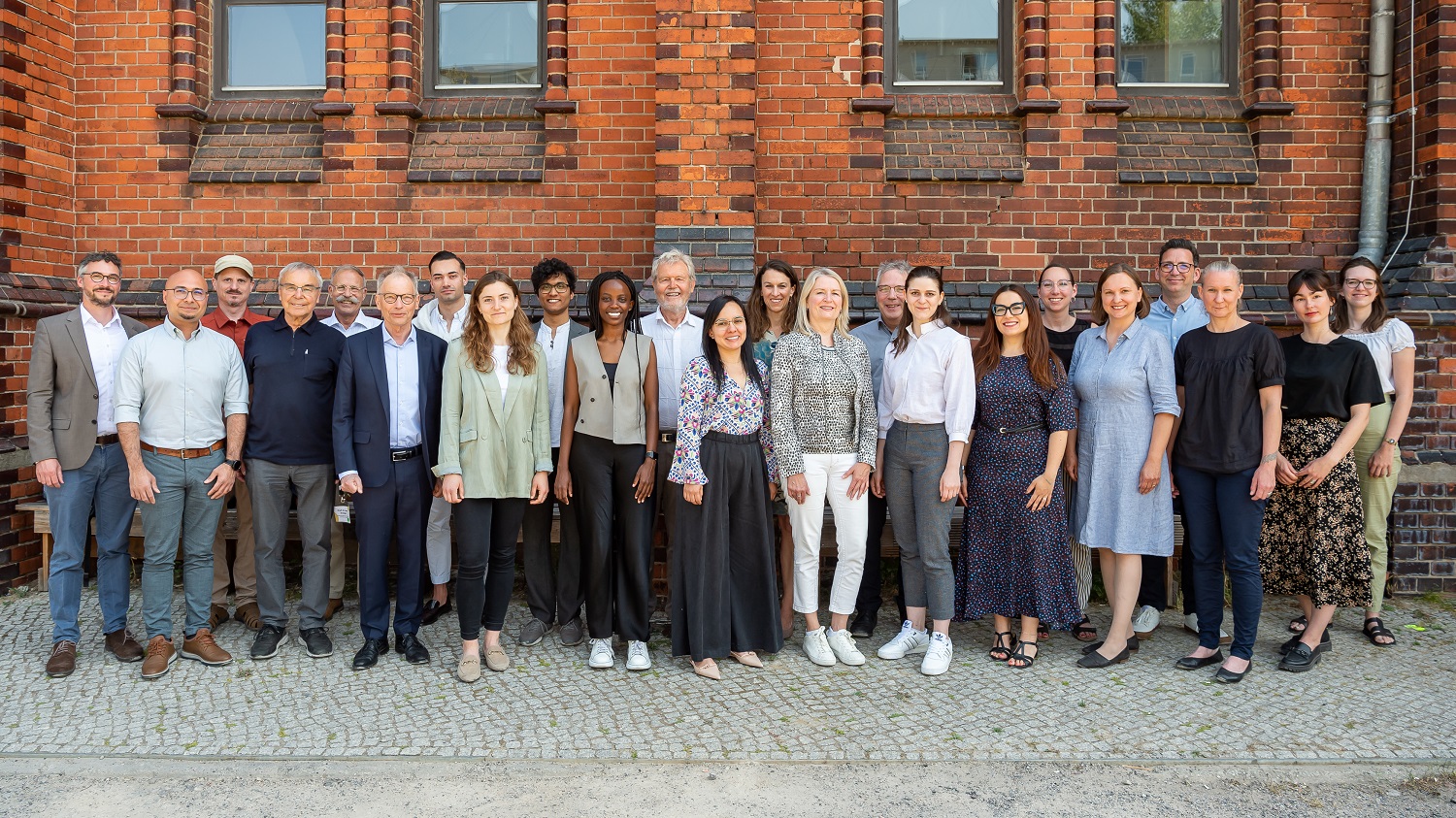 Exchange, inspire, act together – these words capture the essence of this year's Community Day 2023. 12 of our 13 Hub Communities met in person, discussed and agreed on common goals for action. We have captured selected moments.
At this year's Community Day, insights and perspectives of diverse stakeholder groups across different sectors ensured enriching and constructive conversations. United in their desire to find solutions for pressing global health issues, their aim is clear: deliver impactful recommendations for German policy makers. 
Exchange: Talking about Unique Topics in Global Health
Self-initiative is one of the guiding principles of our Hub Communities. In the spirit of a bottom-up approach, members raise and work on new topics. 

This year's Community Day included the launch of the Hub's new Community on Pandemic Prevention & Biosecurity, initiated by Emil Iftekhar and Pauline Scheuber. Both are PhD Candidates bringing in different scientific perspectives.  Participants in the first meeting were from different backgrounds, ranging from science, the private sector, civil society and politics and included even international representatives. A display with four different dimensions served as a guidance point towards a common understanding of the focal topic: from accidental to deliberate horizontally and from natural to synthetic vertically. The subsequent discussion revealed the necessity to distinguish more precisely between the concepts of 'prevention' and 'preparedness'. To round off the session, Mr Ifthekar announced: "In the coming year, we want to write a policy paper. Plus, we want to organize supporting events.", setting the ambition for the work to come. 

The Hub Community on Digital Health Empowerment is another example for the potential of self-organized Hub Communities. The subject area opens up the examination of current innovations and future trends. Against this background, the Community members engaged in a discussion on three distinct topics: Informed consent in Low- and Middle-Income Countries (LMICs), data marketplaces and their governance as well as the role of Artificial Intelligence (AI). While the discussion on the first two key topics focused on legal aspects and implementation challenges, ethical concerns dominated the discourse on AI-based innovations. Talking about language models such as Chat GPT in the context of global health, participants weighed potential threats and opportunities. "To which extent do we obtain insights into the data AI is fed with?", asked Mbali Motsoeneng, Co-Manager of the Hub Community on Partnerships, thereby alluding to biases reproducing social inequities. At the same time, members saw opportunities when it comes to using AI to support health care in marginalized communities. The group agreed to delve deeper into the subject.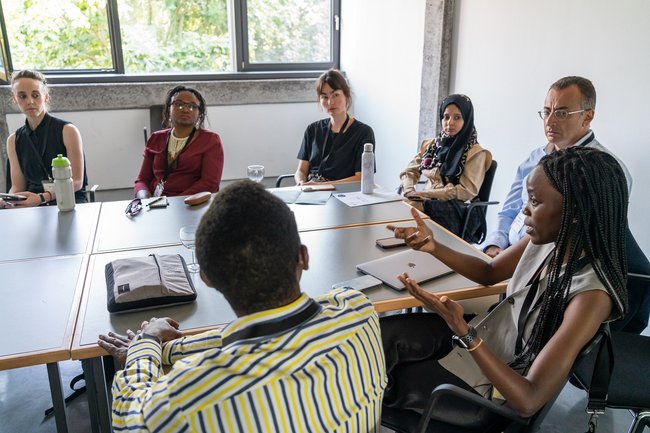 Inspire: Learning from Best Practices in Global Health
Another working principle is the flow of information within and between the different Hub Communities. Impulses from different stakeholder groups foster inspiring insights and offer best practices.

"About one in eight people around the world live with one or more mental disorders." – These words introduce the recently published policy brief of the Global Mental Health Community. Following on from this, the members considered which key issue to focus on in order to concretize their proposals for German policymakers as a next step. Dr Manuela Schuetze from the Berlin-based company Minddistrict provided an impetus in this regard. As a final note on her impulse presentation, she asked: "How can we help children and youth having a timely access to professionals without relying on their parents?" In the ensuing debate, participants discussed deficits in Germany when it comes to offering mental health services for the young. By agreeing that the current demand planning is not accurate, the group identified initial approaches to solutions: On the one hand, Germany can learn from best practices of community mental health services in LMICs and on the other hand, it is necessary to break down disciplinary silos in the academic context.

In the session of the Hub Community on Antimicrobial Resistance (AMR) there were even two impulse presentations, each from a political and scientific lens. While Dr Magdalini Moutaftsi from the division of One Health and Antimicrobial Resistance at the Federal Ministry of Health (BMG) covered a local context, Dr Aurélia Souares of the Heidelberg Institute of Global Health (HIGH) referred to a global perspective. Subsequently, the group took note of two main takeaways. One focused on the potentials and needs for optimization within the framework of the German AMR Strategy, specifically called German antibiotics resistance strategy (DART) 2030. The other one related to the enhanced application of design thinking as an effective method in research to improve awareness and understanding of AMR. The participants agreed to seize the opportunity of the AMR Action week in November as leverage for their agenda.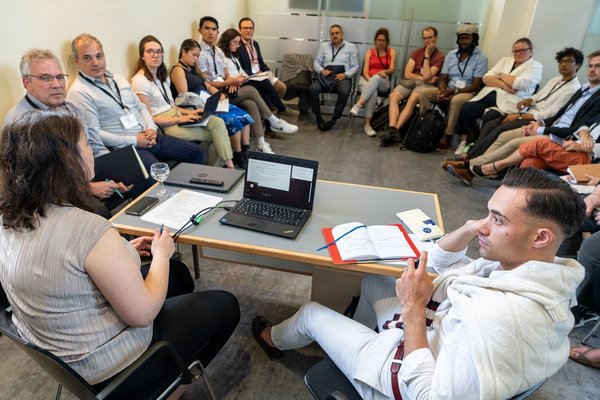 Act Together: Finding Solutions for Global Health
Generating result-driven output is another paramount principle of our Hub Communities. Specifically stated: they intend to have an impact on German health policies with collectively written policy papers.  

"We have to move from talk to action", appealed Prof. Dr Stefanie Klug, Manager of the Hub Community on Non-Communicable Diseases (NCDs), during the session on the eponymous topic. Learning in the discussion that the federal German budget being spent on NCDs is a mere 1%, was what set the course of their collective action: To highlight the need for and potential of prevention on NCDs with appropriate funding. In this regard, the group outlined initial areas of action. First, the term of 'prevention' should be clarified with different types of prevention existing on a continuum. Second, data is needed to detect acute topics and determine priorities. Third, the interconnection of different NCDs such as dental health, diabetes and cancer, should be considered. Fourth, best cases on prevention from LMICs are to be screened and examined.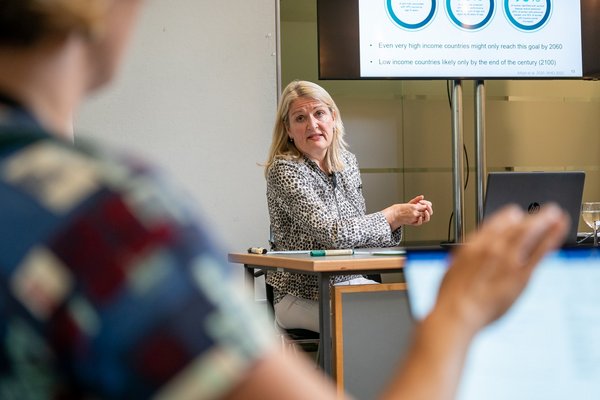 The Hub Community on Global Health and Migration, led by Dr Sonu M. M. Bhaskar and Dr Henna Riemenschneider, also made progress on the policy paper at this year's Community Day. "What are the most notable barriers to accessing care for migrants and refugees in Germany?", served as an impetus at the beginning of the session. Towards the end of the session, the group was successful in aggregating key learnings that will be incorporated into the policy brief. First, migrants arriving in Germany are faced with three main challenges when it comes to quick access to life saving mediations, access to health insurance as well as the provision of psycho-social and culturally sensitive support. Second, medically trained migrants are hindered in offering their services due to complicated and lengthy processes of accreditation. Third, a culturally and linguistically diverse (CALD) training as best practice from Australia offers solutions to better sensitize health workers with regular and mandatory online trainings. Fourth, Germany lacks community health workers, who are crucial to reach migrant communities.

All in all, our Hub Communities will continue to advocate and offer solutions for more resilient, just, equitable and agile health care systems – in Germany and across the world.

Image sources: Global Health Hub Germany / Thomas Ecke
Annual Theme 2023: Planetary Health
In 2023, our Hub Communities collectively voted for the annual theme of Planetary Health. Stay tuned to find out more!
Want to become an active member?
Read more about the Global Health Talk 2023