Catalyst Dialogues: Perspectives of different non-state actors on current global health issues
Besides the Hub Communities, which are organised and initiated by the members themselves, the Hub is assembling experts from different stakeholder groups on politically relevant topics in Catalyst Dialogues. The Catalyst Dialogues reflect the diversity of perspectives within the Hub. However, the number of participants in these processes is limited to ensure they can deliver concrete results within a few months.
Selection of relevant global health topics
Each year, the 16 voting members of our Steering Committee select policy-relevant focus topics. In 2022, the topics were "Global Health Architecture" and "Climate and Health". For 2023, the topics are "Global Health Financing" and "Digital Transformation for Better Healthcare". Together with our partner Healthy DEvelopments, the Hub management team organises Catalyst Dialogues on these focus topics with renowned experts from at least five different stakeholder groups.
Cross-sector and cross-actor global health experts
The experts participate in several debates and individual interviews on the respective focus topics. Their perspectives and arguments are then compiled in a Policy Brief and concrete recommendations are formulated for German policymakers. The Hub management team carries these recommendations into the political environment so that the different perspectives and expertise of non-state actors are considered in political decision-making. "Through our cross-actor approach, our Policy Briefs offer a unique opportunity to familiarise oneself at a glance with the different positions of the various global health stakeholder groups on the respective question", explains Kristina Knispel, Managing Director of the Global Health Hub Germany.
Global Health Architecture
In the first half of 2022, we held our first Catalyst Dialogue with seven high-level representatives from academia, development cooperation, foundations, international organisations and the private sector on the question "What should a global health architecture that meets everyone's needs look like?":
Christoph Benn, Director for Global Health Diplomacy, Joep Lange Institute 
Kate Dodson, Vice President for Global Health Strategy, United Nations Foundation
Roland Göhde, Chair of the Board, German Health Alliance 
Anna Holzscheiter, Professor of International Politics, Technical University Dresden
Ilona Kickbusch, Founder and Chair of the Global Health Centre, Graduate Institute of International and Development Studies in Geneva 
Jean-Olivier Schmidt, Head of Programme, BACKUP Health, Deutsche Gesellschaft für Internationale Zusammenarbeit GmbH (GIZ)
Elhadj As Sy, Chair of the Board, Kofi Annan Foundation
Read the Global Health Architecture Policy Brief now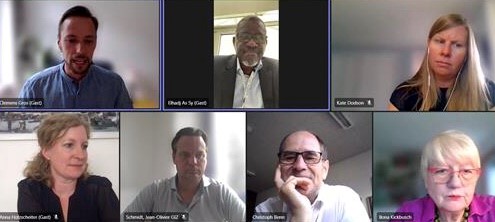 Health and Climate Change
Under the question "How can a holistic understanding of health contribute to a holistic approach to the climate crisis?" we organised a Catalyst Dialogue with seven renowned experts from development cooperation, international organisations, youth, foundations, science and civil society in the second half of 2022:
Prof. Dr Dr Sabine Gabrysch, Potsdam Institute for Climate Impact Research (PIK), Charité-Universitätsmedizin Berlin and German Advisory Council on Global Change 
Sophie Gepp, Board Member of the German Alliance on Climate Change and Health (KLUG) and Centre for Planetary Health Policy
Christian Griebenow, Veterinarians without Borders
Dr Kim Grützmacher, International Alliance against Health Risks in Wildlife Trade, Deutsche Gesellschaft für Internationale Zusammenarbeit GmbH (GIZ) 
Melvine Anyango Otieno, Planetary Health Eastern Africa Hub
Prof. em. Dr Michael Succow, Michael Succow Foundation
Elena Villalobos Prats, World Health Organization (WHO)
Global Health Financing
We will present the results of the Catalyst Dialogue on Health Financing at the Global Health Talk 2023 on 12 and 13 June.