"Who is supervising the computers, when they will take care of our health?"
Dr Leite, belated congratulations on your new position as CEO of The International Digital Health and AI Research Collaborative (I-DAIR) which you started earlier this year. Considering obstacles and opportunities of digitalisation and artificial intelligence in health, what would you say if you had 60 seconds to explain why it's worthwhile to work on this topic? 

Ricardo Baptista Leite: We live in a new era: The rise of machine learning is flanked by rising distrust. So there is a need to harness the potential of this technology to lead towards better health outcomes and more efficient health systems in order to regain trust. This entails implementing the principles of responsible and trustworthy AI to make sure that we're focusing on inclusive, fair and safe technologies and that we are creating the safeguards to protect our citizens. In essence, the leading principle is "First, do no harm". That means that we have to ensure that at each moment the benefits override the risks. We already do that when we approve medicines. We need to do the same with AI.
Our aim at I-DAIR: supporting governments towards building the regulatory capacity to validate artificial intelligence tools by using responsible AI standards defined by WHO and other international organisations. That's how we keep citizens safe and foster innovation, while creating a clear pathway for access to innovative technologies. And all this not just for the few, but for the whole population, including the most vulnerable. Ultimately, the leading question should be: "Who is supervising the computers, when they will take care of our health?"  
In the context of the fast-paced field of digital health, how can government agencies effectively balance innovation with the protection of sensitive health data?   

Ricardo Baptista Leite: The truth is: Every government is struggling to find the right balance between innovation and the protection of sensitive health data. Our approach is that machine learning in healthcare will need to be addressed in a verticalised approach. What we're trying to do at I-DAIR is work with governments as an implementing partner of WHO and of the newly created Global Initiative on AI for Health. This is a partnership between WHO, ITU [International Telecommunication Union] and WIPO [World Intellectual Property Organization].
In the future, the Global Initiative on AI for Health will create the standards and define the tools that can be used to validate AI tools. We have the advantage of having very mature medicine agencies to build the teams that are capable of validating AI tools. That means: they will be creating a model which ensures that the tools used by the citizens are safe, effective, and are of high quality. At the same time, each of these two teams will be connected in a network in which we can have early warning systems for adverse effects of AI tools. In this network we can also share data which can facilitate the approval process of technologies and help reduce bureaucracy. So governments and governmental agencies, such as medicine agencies, they can count on us as partners. They can benefit from our network which helps them strike the balance of keeping their citizens safe and creating an ecosystem that attracts investment in these technologies.

Right, and having such a network serves as an excellent means to foster international collaboration, ensuring the consistency of health data standards. What other measures would you suggest to promote international collaboration on health data governance?
Ricardo Baptista Leite: Another aspect of our work at I-DAIR is to create a global registry of responsible AI technologies. This is a public registry where all of these technologies will be accessible in terms of their availability to the market. As of today, a government that wants to invest in technologies to address a certain problem, does not have a one-stop shop place that enables them finding technologies that solve concrete problems. With this public registry, technologies not only will be centralised in a "marketplace" but also checked for validity in advance.
There are other approaches that are extremely important. Strong policy and regulations, for example. The Centre for Global Health at Charité along with the Health Systems Innovation Lab in Harvard, have created the Global Health Policy Lab. It is a digital repository that aims to pool all the laws, policies and regulations in the field of digital health and AI worldwide. Such an archive allows governments to look at the different examples of policy approaches around the world. Thus, we can stop reinventing the wheel by starting to focus on best practices and adopt those best practices to the context of particular countries and regions.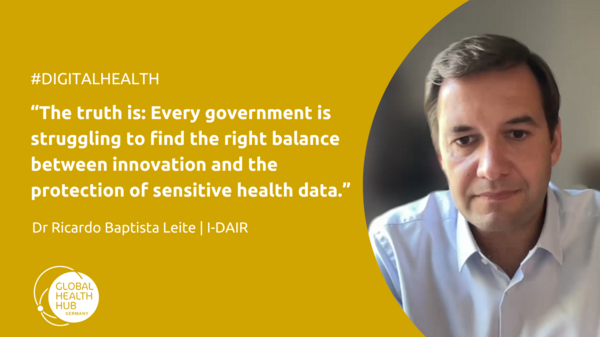 One of the emerging proposals from our new policy brief on digital health data governance is to advocate for a rights-based approach to health data governance globally. This approach promotes frameworks that enable citizens to exercise their rights as empowered patients, while protecting their data and privacy from commercialisation and intrusive states. Do you agree with this recommendation?
Ricardo Baptista Leite: We do need to address the issues of data protection, data privacy and data sovereignty which are all interconnected. As citizens we need to understand how our data is used. This includes: We need to be empowered to control the way the data is not only collected but also processed. Honestly, it's a challenging issue. I hear a lot of solutions of how to empower people, e.g. to decide when or when not to share data on their smartphone. I'm fully supportive of such initiatives.
However, we have to acknowledge that this is something accessible only to a small part of the population. Even in high-income countries not everyone has sufficient digital literacy. We're thinking about the elderly population, for example. Many of which struggle using a phone, and struggle even a lot more using it to manage accessibility to data. In low-income countries, many don't even have access to a phone or access to the internet. So how are they going to manage this or even understand in reality what we're talking about?
That is where we have to find a balance when it comes to the role of the regulatory bodies. This role should not be about overtaking individual rights but actually promoting a state of protection of individual rights. We want to ensure that with the capacity-building approach of I-DAIR, anchored with the guiding questions: How do you manage the data that is collected by those tools? How do you actually process this information? How do you ensure that this data stays within the country and is not being exported without any kind of oversight? How do you monitor the impact of the technology after it's approved and on the market? Finding answers to these questions is how we make sure that our tools get better and lead to the best health outcomes, and that we protect individual citizens.
You're also the Founder and President of UNITE, a global network for members of parliament who are dedicated to global health. What achievements have you seen emerge from within UNITE's network?

Ricardo Baptista Leite: Our main goal at UNITE is to ensure that scientific recommendations translate into concrete policies, laws and regulations in the health space. There are three main pillars to our work: The first pillar is health and human rights. Here we support parliamentarians who want to push for legislation that leads to Universal Health Coverage in their countries. The second pillar is about strengthening health systems, where the focus is on the digitalization. The third pillar centers on health systems governance and security. The peer-to-peer approach enables our work within the scope of capacity building, awareness raising, data transfer and information sharing.
One of the results, for example, are concrete actions and campaigns. We've been involved in a lot of replenishment efforts for the Global Fund to Fight AIDS, Tuberculosis and Malaria, for CEPI [Coalition for Epidemic Preparedness Innovations] and for Gavi by mobilising our members. We've also done a lot of work on concrete laws and policies. E.g. we have a digital health desk that works with a particular focus on India, Tansania and Argentina. In Argentina, we can already observe that both, opposition and majority parliamentarians, are coming together towards wanting to prepare a bill to create the National Health Data Agency.
In addition, we've been highly involved in the negotiations of the pandemic accord. We have been able to arrange a specific hearing just for parliamentarians as part of the formal hearings for the new pandemic accord. This is scheduled to take place in November. The parliamentarians will have a moment and an opportunity to speak in front of the International Negotiating Body [INB] to express their concerns, positions, supporting arguments and ideas that hopefully lead to a better document, expected to be approved at the next World Health Assembly in 2024. So if you want to ask your Member of Parliament to speak up for your issues, this is the time to do it! 

In Germany, for example, there's a parliamentary subcommittee on global health, which UNITE recommends for other countries: what do you think can be achieved through the work of such a subcommittee?

Ricardo Baptista Leite: We're very proud to have Prof. Dr Andrew Ullmann, chair of the subcommittee on global health in the German Bundestag, as a member of our board. His work and the work of the whole subcommittee are truly inspirational. They have been able to bring global health discussions to the parliament, avoiding the frictions that domestic politics inevitably bring. So that model of a global health subcommittee is one that we're now trying to export to other parliaments. We submitted a proposal in my home country, Portugal, where the subcommittee was created. We're also seeing other countries moving in that direction. By now, the European Parliament also has a subcommittee on public health.      
These two elements, the subcommittees and having a parliamentarian as an ambassador for global health, are considered as strategic in the sense that a country is aware of all of the international health discussions.They are also pivotal so that a country has a voice to represent its interests in those discussions. We really believe that this model and these initiatives can have an impact on getting global health higher on the agenda and therefore leading to more effective policy making. 
The subcommittee on global health in the German Bundestag works closely with the Global Health Hub Germany who acts as a bridge between global health stakeholders and policy makers. Do you see the Hub as a model that could also work in other countries?    
Ricardo Baptista Leite: Absolutely, I am a firm believer that only through partnerships and collaboratives are we able to move forward. Right now, we are living in a moment of divisive politics around the world. Specifically, we see that with the rise of some forms of populism, along with a lot of divisiveness in society for many reasons we don't have time to get into. But this has made it difficult for us to have an honest dialogue in the public space. One that is constructive and leads towards bringing together different opinions and creating something better and greater in the future.
I also am a firm believer that innovation is always built on the coalescence of everything that preceded us towards something new in the future. If we don't have dialogue and a safe space to share ideas and thoughts and to confront different opinions, innovation is impossible. So we need to create an environment that facilitates that. The model of the Global Health Hub Germany creates safety towards what I hope will be better health not only for Germans, but also for Europeans, and hopefully can serve as a model around the world.   


This interview has been edited for length and clarity. It was conducted and edited by Julia Schmitt.

Image source of the top picture: João Pedro Domingos