Review of the year: The activities of the Global Health Hub Germany in 2022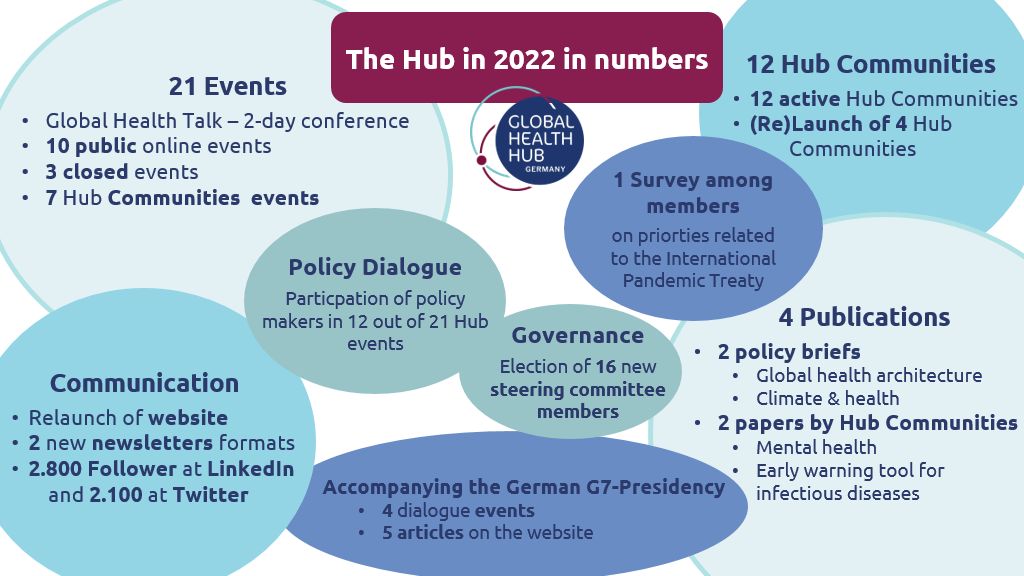 Dear Members and friends of the Hub,

Looking back at the past twelve months, one can say it has been a dynamic and successful year for the Global Health Hub Germany. Thanks to the commitment of our more than 1,500 members and supporters, we are constantly evolving and growing as a network. We bring the diverse global health community across Germany more closely together to strengthen exchange and cooperation across stakeholder groups and sectors. We accompany current global health debates and developments in our various events in order to allow for public engagement. And we give room to share expertise and perspectives of non-state actors with the policy level. We do this with the ultimate objective to strengthen Germany's engagement for better health worldwide and to advance global health as a political priority.

Based on our strategy (2002-2024) that has been launched a year ago, the Hub organized its activities along three pillars. The first pillar is the Community Organizer. It opens spaces for exchanging perspectives, best practices, and working on joint outputs in one of our 12 Communities of Practice. The second pillar, Impact Catalyst, convenes expertise from various stakeholder groups to share their perspectives on complex political relevant issues such as global health architecture and climate change and health in 2022. The last pillar, Policy Contributor, builds relationships with political representatives to facilitate exchange among our members and political decision-makers. Likewise, the Hub has an open ear for questions and requests from the policy side, ensuring our work and expertise are of value.

We have relaunched our website and launched two newsletters: the bi-weekly Global Health Hub UPDATE and the quarterly Global Health Hub INSIDE, ensuring you remain up to date on what is happening across the global health landscape and within the Hub. The re-election of our Steering Committee was another important step this year. The Steering Committee is supporting the Hub in its strategic and long-term decisions in the next two years. Their first meeting took place on the margins of our annual conference: the Global Health Talk (GHT). After two years of virtual gathering due to the pandemic, this hybrid event allowed for over 160 members and friends of the Hub to meet in person.
We want to share an update on where we stand to allow for transparency.

Read more!

If you have suggestions, ideas, or concerns, you are welcome to reach out to the Hub Management Team.

Best regards,

Kristina Knispel, Managing Director, Global Health Hub Germany